Who is Lil, anyway?
French Cycling Licence...
Lil Pfluke has been living, working, and cycling in
France
for more than ten years. A cat 2 racer holding a French cycling license, she races for the women's team sponsored by the Paris Metro.
UCI Masters World Championships...
She is a very versatile cyclist, and has had multiple top five finishes in the UCI Masters World Championships in the time trial, road race, mountain bike cross country, mountain bike downhill, cyclocross, and track events.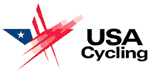 Licensed USA Cycling coach...
She is a licensed USA Cycling coach, and is active in the French Handisport Federation, where she pilots a racing tandem for blind stokers.
World Hour Record...
She set the World Hour Record for Masters Women on 10 September 2006 by riding 41.2397 kms

Lil's World Record!
Her 'limosine'...
She has cycled all over France, either racing or as the captain of her triple bicycle, called 'the limosine', with her two sons on the back.

Tour of Hope...
A recent cancer survivor, she rode across the US in 2003 with Lance Armstrong in the Tour of Hope.
She rode accross the country again with her two sons on the limosine in the summer of 2006.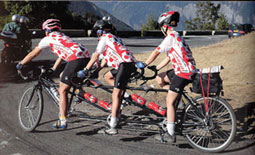 She is clearly passionate about cycling, but it takes more than passion to organize and lead a successful trip.
From West Point...
Lil was in the first class of women to graduate from West Point, and is retired from the US Army.
Her enthusiastic leadership and meticulous organization skills help insure that these trips go smoothly.
Her current position as an Engineer for the American Battle Monuments Commission takes her all across France, inspecting and coordinating the maintenance of US war memorials. Fluent in French and German, she enjoys helping visitors appreciate and understand the culture they are experiencing.

She has planned and executed over 500 successful trips!
Her ready smile and positive energy will help keep you rolling up the steepest passes!